Jurassic World: Dominion Dominates Fandom Wikis - The Loop
Play Sound
This article is about the Spartacus episode of this name. For the occupation, see "Prostitute".
"Whore" is the ninth episode of Spartacus: Blood and Sand. It is the ninth episode in the Spartacus series overall.
Plot Outline
Batiatus breaks the news that Spartacus is to service the richest woman in Rome.
Synopsis
The episode opens to the gladiators practicing on the training grounds. Duro, Agron and the other recruits now bare the mark and have become full fledged gladiators. Spartacus and Varro train together, however, Varro performs sluggishly. He reveals to Spartacus that his concentration is on his wife, Aurelia, and the letter of apology he sent to her, in which she did not reply to.
Up in the villa, Lucretia shows Licinia a collection of masks in preparation of the latter to secretly lay with one of the gladiators. Licinia requests Spartacus as the man she would do so with, to which Lucretia accepts. As the conversation of t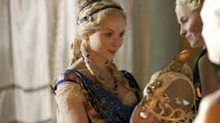 he women continues, Ilithyia enters the room. Licinia immediately scolds her about her recently executed gladiator, Segovax. After Licinia leaves, Ilithyia warns Lucretia to be wary of Licinia. Also, after noticing the mask, the secret meeting, and her arrival to the ludus at all, Ilithyia excitedly predicts Licinia's plan to lay with one of the gladiators. Lucretia pleads with her not to tell anyone of the arrangement, to which Ilithyia agrees. Later that day, Lucretia tells Batiatus of Licinia's arrangement. Batiatus summons Spartacus and informs him of his task to please Licinia. Spartacus dutifully accepts.
In the infirmary, the Medicus explains to Crixus that he can return to the sands in the following week or two. Crixus instead insists that he returns tomorrow. Ashur enters the room. He says that he is now ready to remove the brace around his leg, and to return to the sands as a gladiator. Crixus jokingly mocks him before leaving.
In the villa, Batiatus (while having sex with a slave) and Lucretia discuss Spartacus and his new loyalty. Lucretia commends him for turning Spartacus into his loyal pawn after having Sura killed off to do so. She soon admits her concern that the gladiator will perform poorly for Licinia, having been absent a woman for many months. Batiatus agrees with her though they state it can be avoided if Spartacus is given a chance to overcome before they take note of an attractive slave woman bringing them their drinks. Night falls, as Spartacus returns to his cell. He is surprised to see a naked slave woman there waiting for him. The woman reveals herself as Mira, who has been sent by Lucretia to "prepare" him for his moment with Licinia. Spartacus refuses her, sending her back to Lucretia. As she leaves, Naevia meets with Crixus, and the two share a brief moment of romance together. Crixus is now sure that Batiatus does not intend to sell him anymore. Naevia replies that she is torn by the fact of not being able to truly have Crixus, but he assures that everything will be okay.
The next morning, Crixus returns to the training ground donned in his gladiatorial armor. Following his entry, Ashur also eagerly returns. The gladiators immediately take him as a joke, however. Batiatus calls upon As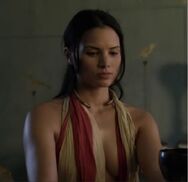 hur, ordering that his days as a gladiator has long passed as his cunning is more valuable than his sword. Lucretia enjoys a hot milk bath next door. As she bathes, Mira enters the room and quickly tries to leave but is stopped by Lucretia. Lucretia asks her how her night with Spartacus went, to which Mira replies that he did not have her. Upset, Lucretia orders her to return to his cell tonight and have sex, or else she will be killed.
The gladiators begin their daily regime on the training ground. Crixus overpowers Duro completely, which angers Agron. A fist fight ensues between the two, that is only ceased by Oenomaus. Varro tells Spartacus that he has run out of money to continue communication with his wife, Aurelia. Spartacus allows him to use some of his own money for the purpose; Varro gratefully accepts. In secrecy, Lucretia lies with Crixus again. She notes that he alone will "always be hers."
In Capua's marketplace, another meeting of secrecy takes place. Solonius pays Ashur in exchange for knowledge of Batiatus' movements. Ashur warns Solonius that Batiatus intends to take Solonius' life. Meanwhile, back at the villa, Ilithyia expresses a bit of jealously to Lucretia of her "new friends", most notably Licinia. Ilithyia adds that in her husband's absence, she has longed for sexual favors. Lucretia comforts her and allows her to set up an arrangement with one of her gladiators for the task.
Later that night, Lucretia is in a rage. Batiatus questions her of the reason, to which she reveals that Ilithyia desires to lay with Crixus. Batiatus tells her that they must swallow their pride, and to allow Ilithyia do so, in favor of one day earning her husband's patronage. Down in the gladiator bathing room, Varro is also in a rage against Ashur. Ashur explains that upon going to deliver Varro's letter, he did not see his wife there, but instead found only traces of blood. This angers Varro further, to the point of physically attacking Ashur. This act quickly puts Varro in chains. Crixus waits for Naevia in their usually meeting place, but she does not come.
In his cell, Spartacus' sleep is suddenly interrupted by Mira. She again tries to seduce Spartacus, but to no avail. Mira soon says that if he does not lie with her, she will be punished. Spartacus allows her to stay in his cell for the night, but on the floor and not in bed with him. However, he asks a favor of her.
The next morning, Lucretia has set her plans in motion for Ilithyia. Duro continues to struggle in his bouts with Crixus, but slowly begins to show bravery. Varro is released from confinement. Spartacus surprises him with the news that he has sent Mira to look for Varro's wife and son. As he trains, Crixus notices Naevia showing intimacy towards one of the guards, Hector, which stirs him with jealously. Above the ludus, Ashur and Aulus arrive presenting a decapitated head to Batiatus. Batiatus hopes that it is Solonius, but Ashur says that it is not. Instead, it is the head of one of Solonius' men, as Solonius himself escaped murder.
Night falls in Capua, and Lucretia readies Spartacus for his night with Licinia. In the ludus below, Crixus accuses Naevia of being unfaithful, as he allegedly had witnessed her being intimate with another man earlier. Naevia reflects this by saying that what he saw was merely an act, as she has secretly stolen Hector's key because of it. Naevia finally unlocks the door that has divided her and Crixus, and the two lay together for the first time.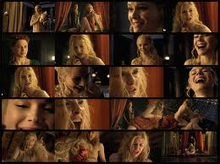 Back in the villa, Spartacus' preparations are complete. In order to protect their identity, both persons wear masks. The curtain unfolds as the masked woman walks toward the masked Spartacus. The two make love to each other as scheduled. However, Licinia and Lucretia interrupt the two. Spartacus, believing to be laying with Licinia, removed the mask of the masked woman, revealing it to be Ilithyia. Horrified and angered, he chokes her until being beaten and taken away by the guards. Licinia begins to mock Ilithyia once again and threatens to tell Glaber and Rome of her actions. In a fit of rage, Ilithyia attacks the laughing Licinia, repeatedly bashing her face onto the floor, killing her.
Soon afterwards, Batiatus scolds Lucretia for both Licinia's murder, and pairing Spartacus with Ilithyia instead of Crixus. Batiatus is fearful of his ruin due to her murder under his own very roof. Lucretia exclaims that Licinia came alone and told no one where she was going, thus removing any connection of Licinia ever being at their house, once the body is removed. Lucretia then proceeds to comfort the emotionally torn Ilithyia. Ilithyia worries that her husband will see her dead for what she has done. However, Lucretia says that no one will ever know what has happened there that night. Taking advantage of Ilithyia's situation and feelings, Lucretia shrewdly insists that Ilithyia stays there with her and her husband, until she is emotionally and mentally ready.
Historical Context
Historically, Licinia (the cousin of Crassus) had become a Vestal Virgin in 85 BC, and so would not have engaged in a secret intercourse at Batiatus' Ludus, having strictly lived in Rome during 73 BC, when the event would have taken place. She was also a Vestal Virgin until 61 BC, long after Spartacus' rebellion.
Characters in Order of Appearance
Trivia
According to Duro, this episode takes place two weeks after Mark of the Brotherhood.
It is later revealed in Balance that Ilithyia became pregnant with Spartacus' child after their sexual encounter.
In Fugitivus, it is hinted that Ilithyia enjoyed the sex, in spite of Spartacus nearly killing her.
This episode introduces Mira, a house slave that was chosen to sleep with Spartacus who refused her advances. Mira would later become the lover of Spartacus during the rebellion.
Quotes
Spartacus: "A woman seldom rushes back to the husband who calls her a whore."
Varro: "I said no such thing! Not in words; The letter was contrite! I admitted I reacted poorly to the news of her being with child."
Spartacus: "And now she makes you wait." (grins) "The way women punish us for being fools ..."
Duro: "This isn't the arena."
Crixus: "The world is my arena, pup!"
Promo