Administrator
"The world is my arena, pup!"'-Crixus

This editor is a Admin user on the Spartacus Wiki. They have the ability to swiftly rollback undesirable edits, rename poorly titled images, and promote or demote users.

Cheatcodechamp is an admin here on the Spartacus Wiki. His current goals are to attempt to finish actor and book related articles.
Full Bio
Im Cheatcodechamp, and I'm an editor here and on three other wiki's. I am a pattroler on the Elder scrolls wiki, and I'm admin on the Wikianswers, Spartacus, and Breakout kings wiki. I also have bureaucratic rights on the Black Sails wiki.
I have been editing for over a year now, and i enjoy it. I got into editing to pass time while i was in college, and became a full time editor when events forced me to drop out. while i wait for those events to clear and give me a chance to get back into the real world, i like to work on wiki's i feel need help. I started on the elder scrolls wiki, but moved to Spartacus when i found episode articles that where left blank. While i worked there, and balanced between my two wiki's i started watching Breakout kings, a cancelled TV show (that I highly recommend) , and soon adopted its abandoned wiki.
Once day i ended up on wiki answers, and i was (in a very fast time period) promoted there due to my trusted status on other wikis and my ability to work with quality and enjoyment.
Im currently working on the new Blacksails wiki, and have recently adopted it.
Spartacus wiki Bio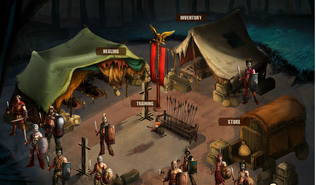 I got into editing by mistake, i found the arena page one day and nothing had been done to it, i spent the next week working on it then moved to other wikia. After awhile, i returned hoping to find a newer challenge then what i had found at the other wikia. While i still edit the my other wiki's i help with this one as well, and plan to do so for some time.
Im currently planing on expanding our fourums and to use this to finish the remaining work here on Spartacus.
Projects
finish the comics and related content.
Finish the books.
Update all cast articles.-main goal

Remove "Stubs" from cast".

Delete unused images.
My favorite pages
These are articles that (on this wiki) i have put great effort into, and have remained largely my own work.