Featured Article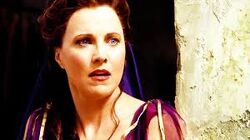 Lucretia is the wife of Quintus Lentulus Batiatus and the domina of his ludus. She is a privileged Roman woman, who always supports her husband's eagerness, no matter the cost. After the start of the rebellion she is left a battered woman having suffered gravely. However, through Ilithyia's friendship she gradually regains her wits and is soon regarded as a prophet by the people of Capua. Lucretia uses this title to manipulate those around her, her own goals always in mind.
Latest Episode
The Spartacus Saga: Uncut
From Batiatus' early lanista days and Gannicus becoming a god, through to Spartacus joining the gladiators and starting a rebellion, leading to the rise of an army and the fall of Glaber, ending in a city of rebels and their loss to Crassus.
The Spartacus Saga: Uncut gives you the chance to watch all four brilliant seasons of Spartacus, that's over 39 whole hours, filled with even more sex, blood and violence.
From October 26th, once again join the rebel army and TOGETHER WE SHALL SEE ROME TREMBLE!
Content Ratings
| | |
| --- | --- |
| Rating | TV-MA |
| AC | Adult Content |
| AL | Adult Language |
| GV | Graphic Violence |
| N | Nudity |
| SC | Strong Sexual Content |