User Blogs
I'm thinking, to carry on this series, contributors and users could borrow from the Avatar: The Last Airbender wikia and add their own Fanon pages?

Good idea. I have a Spartacus Fanon Wiki logo i made…

Read more >
Featured Quiz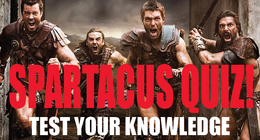 Featured Article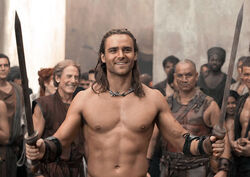 Gannicus was once a gladiator and Champion of Capua, owned by Quintus Lentulus Batiatus in years gone by. He was released as a reward for winning the opening games of the new arena, but couldn't bear the weight of his mistakes, and took to travelling for many years. When he hears of the planned execution of several gladiators, including his old friend Oenomaus, he returns to Capua intending to send them to the afterlife, the way they deserve. Through several turns and twists Gannicus ends up as a general in Spartacus' rebellion, and one of his closest friends.
Latest Episode
The Spartacus Saga: Uncut
From Batiatus' early lanista days and Gannicus becoming a god, through to Spartacus joining the gladiators and starting a rebellion, leading to the rise of an army and the fall of Glaber, ending in a city of rebels and their loss to Crassus.
The Spartacus Saga: Uncut gives you the chance to watch all four brilliant seasons of Spartacus, that's over 39 whole hours, filled with even more sex, blood and violence.
From October 26th, once again join the rebel army and TOGETHER WE SHALL SEE ROME TREMBLE!
Content Ratings
| | |
| --- | --- |
| Rating | TV-MA |
| AC | Adult Content |
| AL | Adult Language |
| GV | Graphic Violence |
| N | Nudity |
| SC | Strong Sexual Content |
Community content is available under
CC-BY-SA
unless otherwise noted.