Featured Article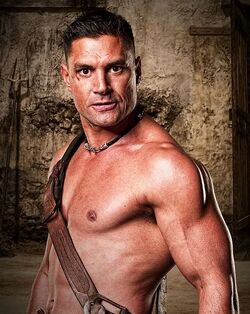 Crixus, once a simple slave, was purchased by Quintus Lentulus Batiatus and trained by Oenomaus as a gladiator, eventually becoming the Champion of Capua. After the rebellion began, he becomes one of Spartacus's most trusted generals. He is a fierce fighter and a strong believer in the rebels' cause, fuelled by his lover, Naevia and his longing to give her a future worth living.
Latest Episode
The Spartacus Saga: Uncut
From Batiatus' early lanista days and Gannicus becoming a god, through to Spartacus joining the gladiators and starting a rebellion, leading to the rise of an army and the fall of Glaber, ending in a city of rebels and their loss to Crassus.
The Spartacus Saga: Uncut gives you the chance to watch all four brilliant seasons of Spartacus, that's over 39 whole hours, filled with even more sex, blood and violence.
From October 26th, once again join the rebel army and TOGETHER WE SHALL SEE ROME TREMBLE!
Content Ratings
| | |
| --- | --- |
| Rating | TV-MA |
| AC | Adult Content |
| AL | Adult Language |
| GV | Graphic Violence |
| N | Nudity |
| SC | Strong Sexual Content |