The Medicus is the devoted and skilled doctor for the House of Batiatus, tending the injured Gladiators after their many battles.
Character Outline
Edit
The Medicus is a tall and thin man who works in Batiatus' Ludus as the Medical general for the Gladiators. He is very critical to others when not needed but is useful in his knowledge of Herb and Salve treatments. He also cuts the hair of new Gladiators.
Gods of the Arena
Edit
The Medicus attends the wounds of the gladiators, but isn't featured that often. His most significant role was when Titus became notably ill and the only way to help him would be to get special herbs from the markets. He leaves with Batiatus and Oenomaus to get them, but would return to find that they were too late.
He presumbly also cured Ashur's leg and burned arm when he is injured in the Opening Games of the New Arena
Blood and Sand
Edit
The Medicus is put in charge of cutting Spartacus' long hair and takes care of the many gladiators within the ludus,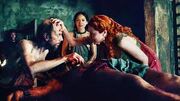 as well as the other slaves.
He tends to Crixus' wounds following his defeat from Theokoles. He is told by Lucretia that if Crixus dies than he will suffer the same fate. His work and skill, however, aid in Crixus' survival and return to the arena.
Later, he tends to Spartacus' wound as well as Aulus' with Mira's help.
Vengeance
Edit
It is not shown what happens to him after the revolt, but it was revelaed on Spartacus' director Steven S. DeKnight Twitter that he died of dysentery in the sewers.
David Austin, the actor who plays the Medicus once played in a Rock Band and is an avid Skate Boarder and Board collector.
His voice completely changes in Gods of the Arena.
Although the Medicus serves as a physician for the gladiators, he is also known to treat people from the villa when they need immediate aid.
Medicus is a Latin word meaning "physician" and not the name of the character.
(To Spartacus) Medicus: "Get the Fuck out!" (To Sparticus) Medicus: "Eat It!"
References
Edit