For the full Season Three article, see Spartacus: War of the Damned.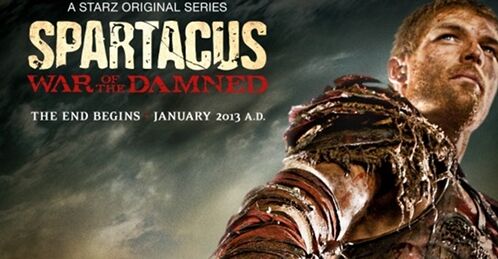 Season Summary
The rebel army has grown in ranks under Spartacus' command as they ransack homes throughout the Roman empire and free all the slaves. Finally, they set their eyes on Rome.
Episodes
Summary: After defeating several armies under different Roman generals pushing them to ask assistance to the rich but disliked senator Crassus, Spartacus sees his army and their followers reach numbers so high that he can no longer provide enough food and shelter for the coming winter. He endeavors to silence all Roman resistance in the area before Crassus and his reinforcement can join them as well as find somewhere safe for his people to spend the winter.
Summary: Spartacus, Crixus and Gannicus infiltrate the city of Sinuessa en valle in order to open the gate and permit the Rebels to take it by force.
Summary: Spartacus tries to contain the thirst for revenge within his troops while negotiating between Cilician pirates and the Roman widow of the former Aedile to provide food for his people.
Summary: Marcus Crassus uses the ancient punishment of Decimation on his army. Caesar goes undercover amongst the Rebels
Summary: Spartacus reveals his plans; why he has kept the last of the Romans alive and set his plan into action. Spartacus is then betrayed once again.
Summary: As Crassus leads an onslaught against the rebel-occupied city, Gannicus finds himself trapped behind enemy lines. Tiberius is tasked by Crassus to hold a celebration in honor of a man he despises. 
Summary: Following a swift defeat at Sinuessa, the Rebels are trapped on a snowbound ridge by Crassus' army. The harsh weather takes it effect on the people as the Rebels decide on their next move. Tiberius regains his rank. Kore grows restless of Tiberius' actions.
Summary: Spartacus, Crixus and the Rebels have come to a turning point. Spartacus and Crixus go their separate ways, some of the rebellion joining Crixus and the others/mostly women and children staying with Spartacus. Crixus' army moves towards Rome and there they face off against Crassus, Tiberius, and Caesar.
Summary: With Crixus' army wiped out, Spartacus organizes gladiatorial games using Roman prisoners to honor his death. Caesar makes a secret offer to him. 
Summary: Spartacus and his outnumbered rebels make one last attempt to win freedom in an epic final battle against the Romans.