Liam McIntyre is an actor who portrays Spartacus in season 2 of the show, Spartacus: Vengeance, replacing the late Andy Whitfield.
Early Life
[
]
Liam McIntyre was born on February 8, 1982 in Adelaide, Australia.
Career
[
]
Liam McIntyre started his acting career in 2007 when he earned some roles in short films, such as Shotgun! An Opening Sequence, of which he was also the producer, Fancy and Anniversary. He first entered the TV realm when he was on The Pacific, playing the character of Lew. In 2011 he was a guest, playing himself, on Attack Of The Show!, the popular comedy clip show on G4. Since Spartacus: War of the Damned Liam stared in The Legend of Hercules and in 2015 he will appear on The CW's The Flash as Mark Mardon (also known as the Weather Wizard) along with a few of his Spartacus co-stars.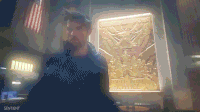 Spartacus
[
]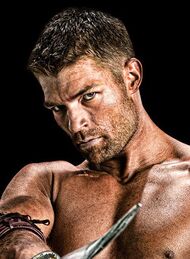 Liam McIntyre was chosen to replace the late Andy Whitfield for the part of Spartacus. Andy Whitfield gave his personal blessing to be replaced with McIntyre, despite the fact that McIntyre was underweight for the role. However, his audition was so strong that Whitfield gave the go-ahead.
Liam was voted IGN's Best TV Hero in 2014 for his role as Spartacus.
Quotes
[
]
"It's a really unique challenge. It's been a great privilege, a great honor, a great responsibility as you guys know. Um, how do you answer that question? It's hard because you wish it was never there you know? You wish you couldn't have that opportunity because I was a fan - it's the weirdest thing." (on playing Spartacus)
"I've spoken to Andy, he's a wonderful, wonderful gentleman and as I understand it, Andy did call up and say that he wanted the show to continue because obviously, they would've plugged the plug when something like that (illness) happens and he gave his blessing to the show and obviously, I'm very grateful for that. It's a big thing to do you know? It makes my job easier knowing the guy that started the whole thing is okay with it and that means a lot to me." (on Andy Whitfield's blessing)[1]
Personal Life
[
]
McIntyre refers to himself as a "nerd" and has admitted that it's something he has to restrain in order to play such a tough, masculine character like Spartacus.
Is 6'2".
Married actress Erin Hasan on January 5, 2014, after prosoping to her at Disney World a year earlier.
His wedding was attended by Spartacus co-stars, including former roommate Todd Lasance.
References
[
]